The Rotary Club of Barrie

The Rotary Club of Barrie Huronia's vision is to join leaders in the Community together to exchange ideas and act towards meaningful change for Barrie citizens. The Club has been involved with Charitable Gaming in the City since 2009. Through their dedicated involvement at Delta Bingo & Gaming Barrie, the Rotary Club of Barrie Huronia raised over $12,000 in 2016. Although the Club's charitable work extends to many areas in the Community, this year they have focused their efforts to specifically support the Push for Change. Founded by former Barrie resident Joe Roberts, the Push for Change aims to raise awareness and work toward an end to Youth Homelessness in Canada. Currently, Joe is completing a 9,000 km trek from St. John's, Newfoundland to Vancouver, British Columbia while pushing a shopping cart; a journey that will take him 519 days to complete. Earlier this year, the Rotary Club along with representatives from the Barrie Bingo Sponsors Association and the Ontario Provincial Police, presented the Push for Change with a $5,000 donation. This donation was funded solely through their service and participation in Charitable Gaming at the Barrie centre. On December 27th, 2016 as Joe arrived in Barrie he was greeted by the Rotary Club of Barrie Huronia who hosted a luncheon to raise additional funds for his cause. The Push for Change will work together with two Barrie agencies, Youth Haven, and the David Busby Street Centre to provide support to homeless individuals in the Barrie Community and to deliver educational programs through various schools in the area. Through the dedication of their members, the Rotary Club of Barrie Huronia continues to be a pillar of change and service to the Barrie Community.
Click the link below to follow Joe on his trip across Canada.
http://www.thepushforchange.com/the-route/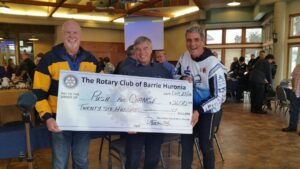 Pictured here (L-R) David Smith, Club President, John Imrie, Bingo Chairperson and Joe Roberts, the Push for Change