Peterborough community celebrates $11 million from charitable gaming
On Nove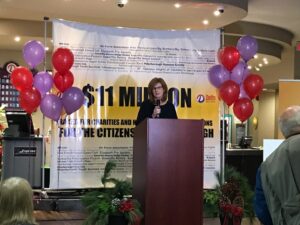 mber 25th, we came together at Delta Peterborough to celebrate the $11 million that has been raised through charitable gaming for the citizens of Peterborough.
Many were in attendance, including representatives from the OLG, Ontario Charitable Gaming Association, Commercial Gaming Association of Ontario, and many more. Several charity volunteers were also at the centre to take part in the celebration.
Peterborough Mayor, Daryl Bennett join the presentation and spoke to the importance of charitable organizations in the city and how crucial it is to have centres like Delta Bingo & Gaming to support the citizens of Peterborough and important social initiatives in the community.
Thank you to our charity partners, volunteers, and loyal bingo players for helping us hit this milestone.