Increasing public awareness of the needs of people with physical challenges
The Kawartha Blazers are an inclusive organization that encourages male and female athletes, both able bodied and those with mobility issues, to participate in the great Canadian sport of ice hockey using a Sledge. Currently we have 34 individuals from the age of 6 to 47 registered on two teams. Hockey allows us to provide the athletes with weekly exercise, a form of physical therapy, while allowing them to develop and improve their social and life skills in a team environment. The Blazers are also using Sledge Hockey to increase public awareness regarding the needs of people with physical challenges.
Many families with young children who have mobility challenges have extra financial burdens due to the specialized equipment required to allow their child to function in their daily life. This can make it difficult for those families to afford the luxury of organized sports. Many individuals 18 years of age and older are living on a minimum wage job, if they can secure work at all. To assist with the costs, the Blazers provide the sledge ($650.00), sticks ($85.00 / set) and all personal protective equipment (~$100.00).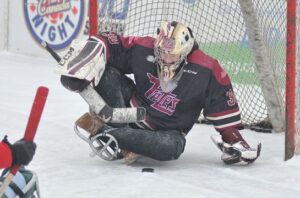 Funds raised at Delta Bingo & Gaming Peterborough have been very influential in the success of our program, allowing us to offer our programs at as low a rate as possible for our players and their families. The funds from Bingo will allow the Blazers to add a third team so we can get more young people with mobility issues engaged and active.
Without bingo funds expansion plans would have to be put on hold and we would need to look at increasing the costs to players and their families, or scaling back our programs, which may well result in many people withdrawing from the programs.