Delta St. Clair hosts Carleton Village Fundraiser Night
The teachers at Carleton Village Junior and Senior Sports & Wellness Academy organized a successful and entertaining fundraiser night at Delta St. Clair on Tuesday, March 7th. Over 50 people came to support the school, raising $1,265 in one session for Carleton's nutrition program, that provides 3 meals a day for over 300 kids.
Principle Lorelei E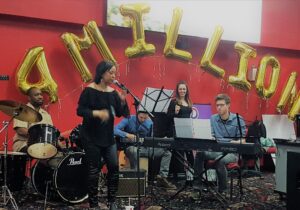 ccles, alongside her fellow teachers, performed a small concert for Delta St. Clair customers, to show their appreciation for the $15,000 raised for the school last year, and for the Christmas Toy Drive that ensured every student received a present from Santa Claus for the holidays.
One lucky Carleton Village player, Michelle, won $1,000 at the fundraiser night – way to go!
Delta St. Clair has established a meaningful relationship with Carleton Village and we are proud of what this partnership has accomplished for the students in such a short time.
Read more about the Delta/Carleton Village story here.