Delta Barrie Raises $11,700 for Camphill Communities
Camphill Communities Ontario is dedicated to creating inspiring opportunities for individuals with cognitive and physical disabilities.
Just outside of Barrie is a unique property run by the organization which allows for their clients to participate in day programs. Day programs include, working on their biodynamic farm to grow vegetables to sell at the market, tapping trees to make maple syrup and caring for the various animals that live there. They also offer an extensive arts program which includes pottery that clients then sell in the Camphill Store in downtown Barrie.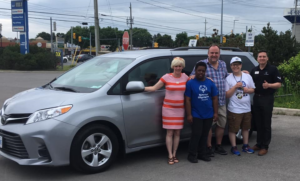 In 2019, Camphill raised $11,700 through their partnership with Delta Bingo & Gaming Barrie. This allowed Camphill to purchase a brand-new Toyota mini-van which will facilitate transportation for their clients to and from their day program activities.